Moving Checklist: Timeline to Help Manage Your Move
What can a moving checklist do for you? Anyone who has moved knows that things don't happen overnight and if they do, then your move probably didn't go smoothly. Waiting to do everything at once increases the risk of missing something in the process and adds stress even after the move is complete. An organized and well thought out move makes managing the stress a lot more doable.
Preparing for Moving Day
Following a timeline while you prepare for the movers to arrive and having a moving checklist to guide you through the process will make things run seamlessly. In addition to a seamless move a moving checklist will let you know what you should have done and when to make your move more manageable.
Moving Checklist: Timeline for an Easy Move
8 Weeks Before a Move
research movers and collect estimates
sort through your belongings and make a purge pile
make an inventory of everything you plan on moving and place it in a moving binder
decide what you will personally be moving and know what your movers can't move
6 Weeks Before
keep purging- look through closets and drawers; be ruthless. The more you purge the less there is to move
have a yard sale then donate what you don't sell
---
Ready to Make The Move?
Call us for a quote or to schedule
---
4 Weeks Before
Decide on a mover and book your moving date
If you plan on packing yourself, get moving and packing supplies
Start packing things that are out of season or that you don't use often
Get change of address forms at the post office
Notify important parties of your new address
Make copies of all important documents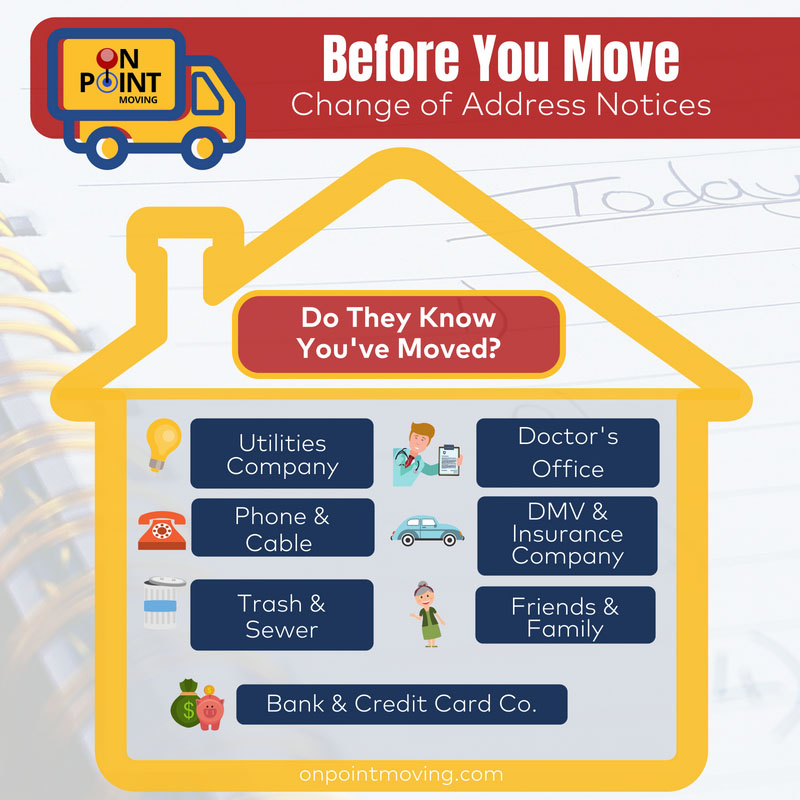 3 Weeks Before
Arrange to have utilities shut off a few days after your move at your old address
Set up to have utilities turned on prior to your move date at new home
Start packing room by room
If necessary, reserve freight elevator in new building
2 Weeks Before
Keep packing
Properly dispose of items your mover can't move
Arrange for a babysitter or petsitter during your move
One Week Before
Set aside what you will need day of move- medicine, documents, and cleaning supplies
Defrost fridge two days before you move
---
Need Moving Help?
Call us to schedule your move today
---
BONUS Moving Tips
Label boxes with a corresponding number to your inventory list- If a box goes missing you'll know exactly what the contents of the box are.
Build a moving binder; should contain contracts, insurance documents, inventory lists, mover contact information and PUC/State license number.