Even Full Service Movers Can't Move These Items
The last thing people think about when they hire a full service moving company is that there might be limitations to full service. Items that are typically left out of the mover's hands are due to liability and are defined by the moving company. Other items, however, are defined as hazardous by the U.S. Secretary of Transportation and cannot legally be moved by your movers as a safety measure.
Before the movers arrive make sure you are aware and understand what those items are to avoid any hiccups on the day of your move.
Items Your Movers Can't Move
Hazardous Materials: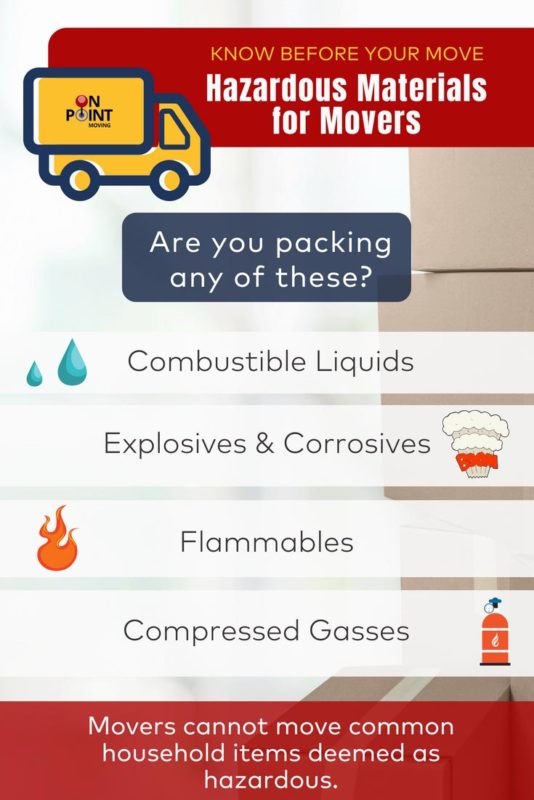 Combustible Liquids
Rubbing alcohol
Motor oils or lubricants
Antifreeze compounds
Corrosives
Acids
Drain cleaners
Photographic acids used in developing
Film bleach
Batteries (wet or dry)
Water purifying agents used in swimming pools
Explosives
Fireworks
Small arms ammunition
Flash bulbs
Flammables
Lighter fluid
Matches
Wood oil stains
Petrol-chemical based garden sprays
Paint, varnish or paint/varnish removers
Butane, propane, gasoline (in garden equipment)
Signal flares
Charcoal briquettes
Compressed Gasses
Aerosol cans
Fire extinguishers
Scuba diving tanks

Items Your Mover Will Not Move
Keep in mind most movers will not move under packed boxes due to the vulnerability of the contents inside; the integrity of the box is compromised and often times collapses during the move causing breakage to packed items. Other items you should plan on bringing with you are high value items, medication and documents.
Items with High Sentimental or Monetary Value
• Pets
• Jewelry
• Cash