Moving Logistics: 10 Tips to Improve Office Moving
When it comes to moving your office, there are many moving parts that need to be considered in order for your corporate move to be handled efficiently to minimize stress on you and your staff. Inadequate preparation for an office move can add time to a move while increasing your cost. This can also create lapses in productivity for your business that ultimately translate to lost revenue. Here are some steps you can take to help your office move run as smoothly as possible.
10 Helpful Office Moving Tips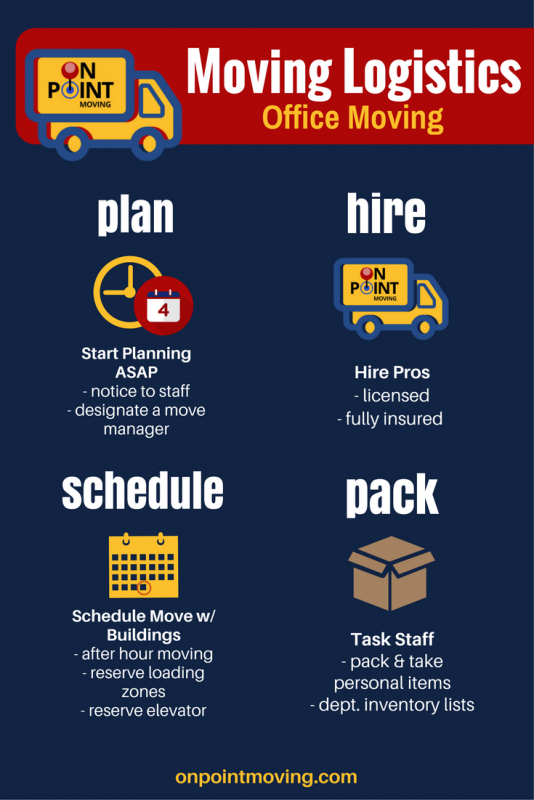 Plan your move ASAP
Minimizing the stress of an office move can be mitigated by starting the planning process as soon you can. This will allow you to take care of address changes, scheduling, and putting together a plan for your staff.
Inform employees during the planning phase
Check your state laws on notice requirements. The sooner you inform your staff about the move the better it is for everyone in the office. Early notice allows your staff to make arrangements and adjust to the new location. This means better productivity after the transition.
Hire an insured moving company
Most office buildings require your movers to be insured to work in the building. Hire a moving company that is fully licensed and insured to ensure that your move is done right!
Schedule your move with both buildings
Why is this important
Moving is often not allowed during office hours so you will need to schedule after hours moving and have someone open the building for you.
You may need to reserve an elevator in the building
Limits on loading area parking may exist and the building manager will need to know you plan on using the area for longer than the time allotted.
Air conditioning and heat are turned off after hours and on the weekend to conserve energy in most buildings; you will need someone to turn those on for you if needed.
Lights may need to be turned on during after hours by office managers.

Designate a Moving Manager
Get back to managing your business and save yourself the headache; giving the responsibility of coordinating the move to one person streamlines the process by eliminating the doubt of who to report to for your staff.
What do these responsibilities look like?
Coordinate furniture delivery with movers and schedule any installations that need to happen including IT for the new office.
Know the floor plan and direct movers on the day of the move.

Start packing the little things you can do without the week before your move.
Create inventories for each department
PRO TIP: have moving manager task the heads of each department to complete an inventory for their department.
Before your move have a walk through at new office space to ensure space is ready for move in.

No leaks
Working lights
Paint
etc

Check with mover about items that cannot be moved or if special arrangements need to be made for specialty items.
Employees should have desk and any personal items packed to be taken with them one day before the move.

Bonus Office Moving Tips
Determine what printed marketing materials require an address change
this includes:
business cards
envelopes
stationary

Let people know you are moving – create moving announcements
Put your marketing company to work by creating:
email blast campaigns
post cards
Ready for your move? Make sure it's On Point with a professional commercial mover that will help mitigate stress, not create more headaches.